Products Description
Grinding Ball Quenching Furnace
● The Application Of Grinding Ball Quenching Furnace
Grinding ball quenching furnace is mainly used for large carbon steel, alloy steel parts for heating, annealing, normalizing, tempering, surface quenching, tempering, eliminating stress, annealing and other heat treatment processes. Casting ball quenching furnace can handle from capacity 10ton/day to 35 ton/day. Quenching equipment for grinding balls is a key process for grinding ball production. To have higher quality grinding balls, mill ball quenching furnace is very important.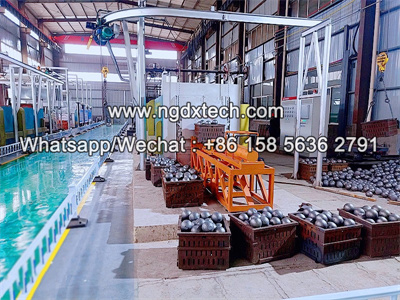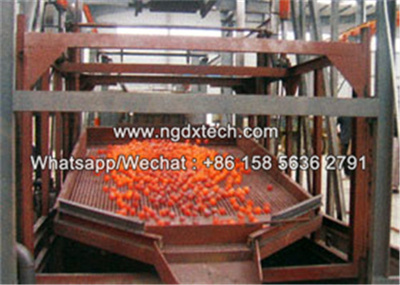 ● Brief description of casting ball quenching furnace structure:

Shell: Select high-quality steel, steel plate welding made with sufficient rigid strength.
Lining: Adopt refractory brick composite structure, select high quality light refractory brick, high aluminum refractory brick, aluminum silicate fiber needle blanket and aluminum silicate fiberboard.
The design and construction methods of the lining are in accordance with the mechanical industry standard <<Code for Design and Installation of Refractory Bricks>>.
Heating element: By using 0 Cr27Al7Mo2 super-temperature resistance alloy wire, the furnace temperature uniformity is effectively controlled. The furnace door and lifting mechanism are mainly composed of steel frame, lining, column frame and walking track of furnace door. Two sets of pulleys for door lifting are installed in the upper part of the furnace door frame. In addition, four guide wheels are installed on the frame plate and the lower four corners of the furnace door frame, and the walking wheel walks along the furnace door track. When the furnace door drops and is about to close the furnace mouth, the guide wheel of the furnace door walks along the compression inclined plate in the furnace door track, and relies on the partial force produced by the gravity of the furnace door in the process of pressing the inclined plate.
Electrical Control: Adopt standard control cabinet. Main control system control cabinet adopts international popular GGD vertical 600×1200×1800 sets of cabinets. The exterior of the control cabinet is sprayed with computer color or light camel color. The electronic control panel is equipped with ammeter, voltmeter, temperature controller, temperature recorder and control switch. The temperature control adopts microcomputer and one body, multi-stage process programming, realizes the one-time input, memory, storage of the process, the time limit control of the heating, the temperature control, the heat preservation time control, etc. The temperature control is equipped with thermocouple correction function, power limit function and overtemperature alarm function. A paper recorder is used to record the furnace temperature. The curve and temperature are printed in real time, and the whole production process is monitored effectively.
The Working Process Of Grinding Ball Quenching Furnace